Science
Cambridge Primary Science (0846/0097)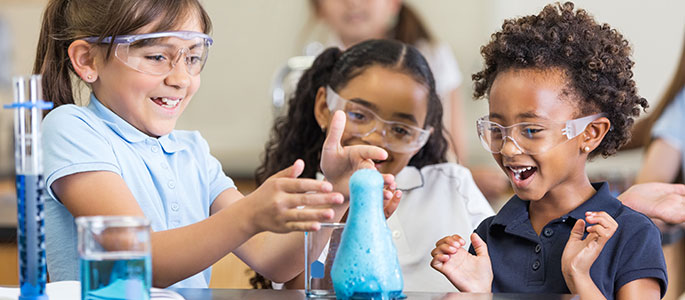 Our exciting new primary science curriculum helps learners develop a life-long curiosity about the natural world and enables them to seek scientific explanations to the phenomena around them.
What will students learn?
Students will think scientifically and develop practical skills alongside knowledge and understanding, which is vital for explaining the world around us. Improving learners' awareness of science in the world around them develops their sense that 'science is for me', helping to connect themselves to the subject.
This approach provides them with the knowledge and skills they require to excel at science in later stages of education and to make informed choices, including considering sustainability issues and meeting the challenges facing our environment.
How is the programme taught?
This curriculum covers six main areas called 'strands' that work together so that you can teach science holistically:
Biology – living things and how they interact.
Chemistry – the study of matter.
Physics – the interaction of matter and energy.
Earth and Space – planet Earth, the wider Solar System and beyond.
Thinking and Working Scientifically – develops understanding and skills of scientific models and representations, scientific enquiry and practical work.
Science in Context – helps teachers demonstrate the relevance of science to learners and unique to our science curriculum.
Support to help you deliver the course
You will find plenty of support to help deliver our new science curriculum, including activities that you can adapt to suit your context:
Assessment materials including progression tests and past Cambridge Checkpoint papers.
Curriculum Framework.
Online and face-to-face training.
Schemes of work.
Teacher Guide.
We also work with a range of third party publishers to produce high-quality endorsed resources to support this framework.
Assessment
With a range of assessments available for this subject including Cambridge Primary Progression Tests and Checkpoint, you can to choose the approach that works best for your school and learners.
Science
1.2 The human skeleton
1.3 Why do we need a skeleton?
1.4 Skeletons and movement
1.5 Drugs as medicines
1.6 How medicines work

2.1 Living things and environments

2.2 A habitat for snails
2.3 Animals in local habitats
2.4 Ldentification keys
.2.5 Identifying invertebrates
.2.6 How we affect the environment
.2.7 Wonderful water
2.8 Recycling can save the Earth!

3.1 Solids, liquids and gases

3.2 Matter is made of particles

3.3 How do solids, liquids and gases behave?
3.4 Melting, freezing and boilin
3.5 Melting in different soilds
3.6 Melting and boiling point

4.1 Sound travels through materials

4.2 Sound travels through different materials
4.3 How sound travels
4.4 Load and soft sounds
4.5 Sound volume
4.6 Muffling sounds
4.7 High and low sounds
4.8 Pitch on percussion instruments
4.9 Having fun with wind instruments

5.1 Electricity flows in circuits

5.2 Components and a simple circuit
5.3 Switches
5.4 Circuits with more components
5.5 Circuits with buzzers
5.6 Mains electricity

5.7 Magnets in everyday life
5.8 Magnetic poles
5.9 Strength of magnets
5.10 Which metals are magnetic?