ICT
Cambridge ICT Starters (8984)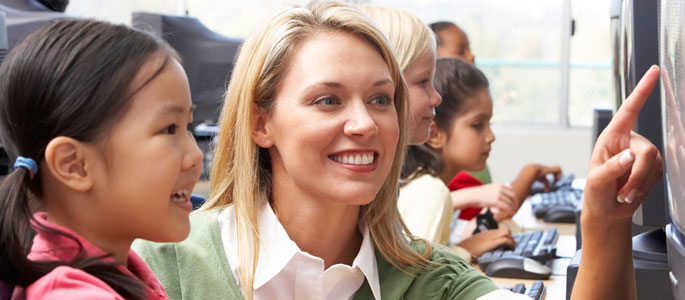 Information and Communications Technology (ICT) is now part of the educational experience worldwide and regarded as a new 'literacy' alongside reading, writing and numeracy.
Cambridge ICT Starters is a series of modules which assess candidates on their ability to use a range of computer software to communicate, handle information, model and program solutions. It is suitable for candidates of any age and is typically used for learners aged 5 to 14 years.
It can be assessed in English or Spanish.
International curriculum
Cambridge ICT Starters gives schools a flexible framework to develop learners' ICT competence. Modules can be delivered according to the needs of each learning situation and age of the learners – across the curriculum or as a separate course of study.
Learners will develop key ICT skills in a range of applications including computer programming, word processing, digital graphics, databases, spreadsheets, email, presentations, video/animation, the internet and web authoring. They will also consider wider issues such as eSafety and the adaption of their work to suit their audience.
Assessment
Cambridge ICT Starters is assessed in the classroom through a structured scheme of assessment, operating at three levels:
Each level is made up of two stages and certificates are available on successful completion of each stage.
Each module of the syllabus contains the Assessment Criteria, which must be met to achieve a Pass or Merit, and an Example Assessment Activity. You are free to design your own assessment activities related to the school curriculum you are delivering.
ICT
Starting with Text (4269)
Starting Images (4270)

Starting Graphs (4271)
Starting Programming (4272)
Starting Searches (4273)
Starting Email (4274)


Exploring Documents (4278)
Exploring Images (4279)
Exploring Spreadsheets (4280)
Exploring Databases (4281)
Exploring Programming (4282)
Exploring the Internet (4283)
Exploring Email (4284)
Exploring Multimedia (4285)


Documents for a Purpose (4289)
Multimedia for a Purpose (4290)
Spreadsheets for a Purpose (4291)
Databases for a Purpose (4292)
Programming for a Purpose (4293)
Website Design for a Purpose (4294)
Networks for a Purpose (4295)
Video or Animation for a Purpose (4296)